PROFILE
AcidPrint is a Singapore based Print, Web Design & Development and Digital Marketing Service Provider. We are proud to be amongst the leaders in offering cost effective printing and internet media related services.
Since 2002, our competitive pricing and excellent services have allowed us to grow, expand and consolidate a wide range of services under one roof, thus providing enhanced convenience to our customers.

BUSINESS PHILOSOPHY
Our aim is to provide good value for your investment in our services.
We seek to provide the best value to our customers by promoting affordability and yet at the same time improve and enhance the quality of service. Although this is easier said than done, we will try our best to achieve it by methods such as frequently re-engineering our business processes, bulk purchase of supplies and investment in technology to lower cost.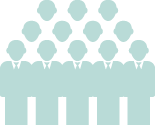 To date, we have built a huge client base with many repeating orders with us many times round.
Although majority of our clientele are SMEs, we also frequently serve public listed companies, governmental organisations, schools, MNCs and non-profit organisations.
While you are here, you might want to find out what customers say about our services. Please also check out the latest promotions.